Pre-Inked Non-Porous "W" Super Stamps
The Self-Inking Inspection Stamp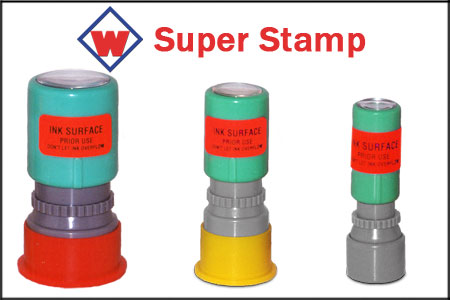 For Marking Metal, Plastic, Glass, Cellophane, etc.
Available in Black, Red, Blue, White, Yellow, and Green

Symbol Samples by Height and

Symbol Samples by Largest Distance
Non-Porous "W" Super Stamps are Pre-inked and work without the use of a stamp pad. "W" Super Stamps are convenient and speed-up the inspection process.
Make many hundreds of impressions without inking. Re-inking the stamp is fast and easy. Simply squeeze a few drops of "W" Super Ink on the Rubber Die and allow to soak-in, repeat the inking process one more time.
Adjust the Impression with the Dial by either turning clockwise or counterclockwise. Re-ink only with "W" Super Ink.

Super Stamp
W Super Stamp, Supplied with 1/2 ounce bottle of ink

Model - IN-S00
Size - 1
Ink Color - Black,Red,Blue,Violet,Green

Please Call 800-512-8014 for Quote
Super Stamp
W Super Stamp, Supplied with 1/2 ounce bottle of ink

Model - IN-S0
Size - 2
Ink Color - Black,Red,Blue,Violet,Green

Please Call 800-512-8014 for Quote
Super Stamp
W Super Stamp, Supplied with 1/2 ounce bottle of ink

Model - IN-S1
Size - 3
Ink Color - Black,Red,Blue,Violet,Green

Please Call 800-512-8014 for Quote