Pre-Inked "RC" Lipstick
Quality Control Inspection Stamps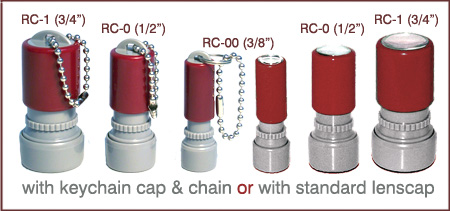 Self-Inking, No Stamp Pad Required
Available in Black, Red, Blue, Violet, & Green

Symbol Samples by Height and

Symbol Samples by Largest Distance
Comes with bottom dustcap and clear top lenscap (displays sample stamp impression for easy identification). Keychain top cap & keychain are extra. Please specify your preference when ordering.
Porous Pre-inked "RC" Lipstick Stamps are a handy stamp to own and work without the use of a stamp pad.
Especially useful for Inspection Process on Paper or for Paper Quality and Assurance Control. Make 1000s of impressions before re-inking.
To re-ink, simply squeeze a few drops of "W" Oil-base Ink on the Rubber Die. Wait for the ink to soak-in, then repeat one more time.
Darken or lighten the stamp impression with the impression adjustment ring.
Re-ink only with "W" Oil-base ink.

RC Quality Control Inspection Stamp
RC Lipstick Quality Control Inspection Stamp

Model - RC-00
Size - 3/8 inch
Ink Color - Black,Red,Blue,Violet,Green

Please Call 800-512-8014 for Quote
RC Quality Control Inspection Stamp
RC Lipstick Quality Control Inspection Stamp

Model - RC-0
Size - 1/2 inch
Ink Color - Black,Red,Blue,Violet,Green

Please Call 800-512-8014 for Quote
RC Quality Control Inspection Stamp
RC Lipstick Quality Control Inspection Stamp

Model - RC-1
Size - 3/4 inch
Ink Color - Black,Red,Blue,Violet,Green

Please Call 800-512-8014 for Quote