Engraving Service, Laser or Machine
Signs, Name Badges, Tags, Desk or Wall Plates, Stencils, etc.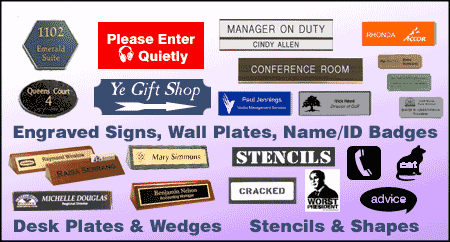 We offer the Best Quality Precision Laser and/or Machine Engraving. Just call, e-mail, or fax us your inquiry or requirements. We have a large variety of stock in-house, can special order custom stock for your project, or engrave right onto your existing stock or item.





Engraved Plastic Signs
Engraved Plastic Signs, Available in many different Colors and Styles

Model - PS
Size -

Please Call 800-512-8014 for Quote
Engraved Name Plates
Custom Engraved Nameplates (for wall or door). Please contact us with your inquiry.

Model - EN1
Size -

Please Call 800-512-8014 for Quote
Engraved Desk Wedges
Engraved Desk Wedges. Please call for item options

Model - EN2
Size -

Please Call 800-512-8014 for Quote
Engraved Name Badges
Engraved Name Badges. Contact us with your badge requirements such as color, stock, corporate logo, etc.

Model - EN3
Size -

Please Call 800-512-8014 for Quote
Engraved Stencil / Shape
Engraved Stencil or Shape. Contact us with your stock and engraving requirement.

Model - EN4
Size -

Please Call 800-512-8014 for Quote
Engraved Identification Tags
Engraved Identification tags for luggage, pets, products, parts, etc. Contact us with your tag size, color, font style, and content.

Model - EN5
Size -

Please Call 800-512-8014 for Quote
Engraved Plastic Panels
Custom Engraving of plastic control panels or covers.

Model - EN6
Size -

Please Call 800-512-8014 for Quote
Custom Engraving, Other Type
If you have an engraving project which is not listed here, give us a call. We can quickly assess the scope of work involved, offer stock and color options, and give you a price estimate. Remember, we can engrave onto your provided stock or product!

Model - ENA
Size -

Please Call 800-512-8014 for Quote