Pre-Inked "IVS" Invisible Stamps
Protects Unintrusively Against Forgeries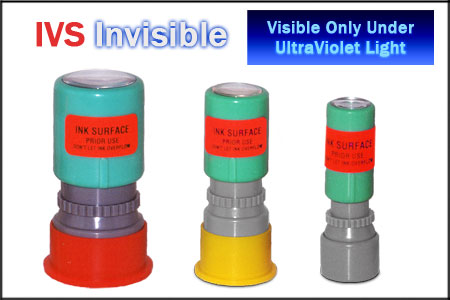 For Use with Ultra-Violet Light
Marks all Non-Porous Surfaces and Skin

Symbol Samples by Height and

Symbol Samples by Largest Distance
Pre-inked "IVS" Invisible Stamps are Invisible as the name says. The Stamp Impression can only be seen with an UV Ultraviolet Light. "IVS" Invisible Stamps are used by many different Manufacturers in order to Protect their manufactured products agains Forgeries.
It will tell you immediately, whether or not it is your part or product. "IVS" Invisible Stamps work on Metal, Plastic, Cellophane etc. are sold as a unit complete with Invisible Ink. Order your "IVS" Invisible Stamps today and Protect your own Products Tomorrow!
"IVS" INVISIBLE STAMPS ARE ALSO AVAILABLE AS BODY STAMPS FOR MARKING "HUMAN SKIN" for Re-entry in Amusement Parks, Sports Functions, Casinos, Night Clubs, Social Events etc. UV Ultraviolet handheld Lights are available from stock.

RC Invisible Stamp
RC Invisible Non-Porous Stamp, Supplied with 1/2 ounce bottle of Invisible Ink

Model - IVS00
Size - 3/8 inch

Please Call 800-512-8014 for Quote
RC Invisible Stamp
RC Invisible Non-Porous Stamp, Supplied with 1/2 ounce bottle of Invisible Ink

Model - IVS0
Size - 1/2 inch

Please Call 800-512-8014 for Quote
RC Invisible Stamp
RC Invisible Body Stamp, Supplied with 1/2 ounce bottle of Invisible Ink

Model - IVS1
Size - 3/4 inch

Please Call 800-512-8014 for Quote
Invisible Body Stamp
RC Invisible Body Stamp For Stamping on Skin Supplied with 1/2 ounce bottle of Invisible Ink

Model - IN-IVSB00
Size - 3/8 inch

Please Call 800-512-8014 for Quote
Invisible Body Stamp
RC Invisible Body Stamp For Stamping on Skin Supplied with 1/2 ounce bottle of Invisible Ink

Model - IN-IVSB0
Size - 1/2 inch

Please Call 800-512-8014 for Quote
Invisible Body Stamp
RC Invisible Body Stamp For Stamping on Skin Supplied with 1/2 ounce bottle of Invisible Ink

Model - IN-IVSB1
Size - 3/4 inch

Please Call 800-512-8014 for Quote