Elegant Goldring Pens with a Built-In Stamp
"For Yourself or as a Perfect Gift"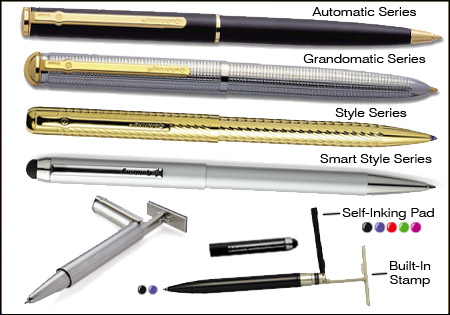 Write it or Stamp it with our Unique and Elegant Pens
Self-Inking - No Stamp Pad Required
Western Stamp offers the Most Unique Elegant Pens by Goldring. Write It or Stamp It - itís a Pen, itís a Stamp. Precision Engineered, you would never suspect, there is a Stamp built inside the Pen.
A Beautiful Item for anyone and for Professionals, Doctors, Lawyers, Accountants, Managers and Sales Personnel.
Please call for availability as not all colors and styles may be on-hand. Pen ink available in black or blue. Stamp ink available in red, green, blue, purple, and black.


Goldring Pen
Elegant Goldring Pens with a built-in self-inking rubber stamp

Model - pen1
Size -

Please Call 800-512-8014 for Quote
Goldring Pen
Elegant Goldring Pens with a built-in self-inking rubber stamp

Model - pen2
Size -

Please Call 800-512-8014 for Quote
Goldring Pen
Elegant Goldring Pens with a built-in self-inking rubber stamp

Model - pen3
Size -

Please Call 800-512-8014 for Quote
Hari-Tech Pen
** Currenty not available **

Model - pen4
Size -

Please Call 800-512-8014 for Quote