FastLight Pre-Ink Stamps
The Best Pre-Ink Stamp Available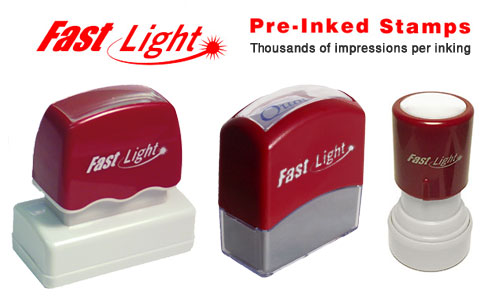 Quick-Dry - Dries in 20 Seconds
33 Sizes, 3 Handle Colors, and 5 Ink Colors
FastLight Pre-Ink Stamps are elegant, reliable and versitile. The impression pad resists warping, doming or cracking, and remains inked for hundreds and even thousands of impressions per inking (depending on environment and size of impression). See the FastLight SizeChart here.
Quick-Dry Ink is Safe for use on CDs, DVDs, Celophane, Film, most Plastics, Glass, Metal, Porcelain, Polished Stone (Marble, Granite, etc) and just about any glossy or non-porous surface. Quick-Dry ink colors are: Black, Blue, Green, Red and Yellow.
FastLight Regular Ink is available for standard paper (cardboard, wood, or Porous surface) marking in these five colors: Black, Blue, Green, Red and Violet.
FastLight is availabe in three Handle colors: Blue, Burgundy and Light-Green, fitted onto a neutral gray mount body.
Download the FastLight PDF SizeChart.

FastLight Pre-Ink 5/8 x 1-5/8
FastLight Stamp #1
Laser Engraved, Pre-Inked, Ready-for-Use

Model - FL-1
Size - 5/8 inch X 1-5/8 inch (17mm x 43mm)
Ink Color - Black,Blue,Green,Red,Violet,Yellow

Please Call 800-512-8014 for Quote
FastLight Pre-Ink 5/8x2-1/8
FastLight Stamp #2
Laser Engraved, Pre-Inked, Ready-for-Use

Model - FL-2
Size - 5/8 inch X 2-1/8 inch (17mm x 55mm)
Ink Color - Black,Blue,Green,Red,Violet,Yellow

Please Call 800-512-8014 for Quote
FastLight Pre-Ink 5/8 x 2-5/8
FastLight Stamp #3
Laser Engraved, Pre-Inked, Ready-for-Use

Model - FL-3
Size - 5/8 inch X 2-5/8 inch (17mm x 67mm)
Ink Color - Black,Blue,Green,Red,Violet,Yellow

Please Call 800-512-8014 for Quote
FastLight Pre-Ink 7/8 x 2-1/8
FastLight Stamp #4
Laser Engraved, Pre-Inked, Ready-for-Use

Model - FL-4
Size - 7/8 inch X 2-1/8 inch (22mm x 55mm)
Ink Color - Black,Blue,Green,Red,Violet,Yellow

Please Call 800-512-8014 for Quote
FastLight Pre-Ink 7/8 x 2-5/8
FastLight Stamp #5
Laser Engraved, Pre-Inked, Ready-for-Use

Model - FL-5
Size - 7/8 inch X 2-5/8 inch (22mm x 67mm)
Ink Color - Black,Blue,Green,Red,Violet,Yellow

Please Call 800-512-8014 for Quote
FastLight Pre-Ink 7/8 x 3
FastLight Stamp #6
Laser Engraved, Pre-Inked, Ready-for-Use

Model - FL-6
Size - 7/8 inch X 3 inch (22mm x 78mm)
Ink Color - Black,Blue,Green,Red,Violet,Yellow

Please Call 800-512-8014 for Quote
FastLight Pre-Ink 1 x 2-5/8
FastLight Stamp #7
Laser Engraved, Pre-Inked, Ready-for-Use

Model - FL-7
Size - 1 inch X 2-5/8 inch (27mm x 67mm)
Ink Color - Black,Blue,Green,Red,Violet,Yellow

Please Call 800-512-8014 for Quote
FastLight Pre-Ink 1-1/4 x 2-1/8
FastLight Stamp #8
Laser Engraved, Pre-Inked, Ready-for-Use

Model - FL-8
Size - 1-1/4 inch X 2-1/8 inch (32mm x 55mm)
Ink Color - Black,Blue,Green,Red,Violet,Yellow

Please Call 800-512-8014 for Quote
FastLight Pre-Ink 1-1/4 x 3
FastLight Stamp #9
Laser Engraved, Pre-Inked, Ready-for-Use

Model - FL-9
Size - 1-1/4 inch X 3 inch (32mm x 78mm)
Ink Color - Black,Blue,Green,Red,Violet,Yellow

Please Call 800-512-8014 for Quote
FastLight Pre-Ink 1-5/8 x 2-1/8
FastLight Stamp #10
Laser Engraved, Pre-Inked, Ready-for-Use

Model - FL-10
Size - 1-5/8 inch X 2-1/8 inch (43mm x 55mm)
Ink Color - Black,Blue,Green,Red,Violet,Yellow

Please Call 800-512-8014 for Quote
FastLight Pre-Ink 2-1/16 x 2-1/8
FastLight Stamp #11
Laser Engraved, Pre-Inked, Ready-for-Use

Model - FL-11
Size - 2-1/16 inch X 2-1/8 inch (53mm x 55mm)
Ink Color - Black,Blue,Green,Red,Violet,Yellow

Please Call 800-512-8014 for Quote
FastLight Pre-Ink 2 x 3
FastLight Stamp #12
Laser Engraved, Pre-Inked, Ready-for-Use

Model - FL-12
Size - 2 inch X 3 inch (53mm x 78mm)
Ink Color - Black,Blue,Green,Red,Violet,Yellow

Please Call 800-512-8014 for Quote
FastLight Pre-Ink 7/8 x 3-1/2
FastLight Stamp #13
Laser Engraved, Pre-Inked, Ready-for-Use

Model - FL-13
Size - 7/8 inch X 3-1/2 inch (22mm x 91mm)
Ink Color - Black,Blue,Green,Red,Violet,Yellow

Please Call 800-512-8014 for Quote
FastLight Pre-Ink 1-1/4 x 3-1/2
FastLight Stamp #14
Laser Engraved, Pre-Inked, Ready-for-Use

Model - FL-14
Size - 1-1/4 inch X 3-1/2 inch (32mm x 91mm)
Ink Color - Black,Blue,Green,Red,Violet,Yellow

Please Call 800-512-8014 for Quote
FastLight Pre-Ink 1-1/4 x 4
FastLight Stamp #15
Laser Engraved, Pre-Inked, Ready-for-Use

Model - FL-15
Size - 1-1/4 inch X 4 inch (32mmx 103mm)
Ink Color - Black,Blue,Green,Red,Violet,Yellow

Please Call 800-512-8014 for Quote
FastLight Pre-Ink 1-5/8 x 4
FastLight Stamp #16
Laser Engraved, Pre-Inked, Ready-for-Use

Model - FL-16
Size - 1-5/8 inch X 4 inch (43mm x 103mm)
Ink Color - Black,Blue,Green,Red,Violet,Yellow

Please Call 800-512-8014 for Quote
FastLight Pre-Ink 2-1/2 x 3-1/4
FastLight Stamp #17
Laser Engraved, Pre-Inked, Ready-for-Use

Model - FL-17
Size - 2-1/2 inch X 3-1/4 inch (66mm x 85mm)
Ink Color - Black,Blue,Green,Red,Violet,Yellow

Please Call 800-512-8014 for Quote
FastLight Pre-Ink 3 x 4
FastLight Stamp #18
Laser Engraved, Pre-Inked, Ready-for-Use

Model - FL-18
Size - 3 inch X 4 inch (78mm x 103mm)
Ink Color - Black,Blue,Green,Red,Violet,Yellow

Please Call 800-512-8014 for Quote
FastLight Pre-Ink 5/8 Round
FastLight Stamp #20
Laser Engraved, Pre-Inked, Ready-for-Use

Model - FL-20
Size - 5/8 inch Round
Ink Color - Black,Blue,Green,Red,Violet,Yellow

Please Call 800-512-8014 for Quote
FL-21
FastLight Stamp #21
Laser Engraved, Pre-Inked, Ready-for-Use

Model - FL-21
Size - 3/4 inch Round (23mm)
Ink Color - Black,Blue,Green,Red,Violet,Yellow

Please Call 800-512-8014 for Quote
FastLight Pre-Ink 2 Round
FastLight Stamp #22
Laser Engraved, Pre-Inked, Ready-for-Use

Model - FL-22
Size - 2 inch Round (51mm)
Ink Color - Black,Blue,Green,Red,Violet,Yellow

Please Call 800-512-8014 for Quote