Custom Made Embossers and Seals
Available as Desk or Hand Embosser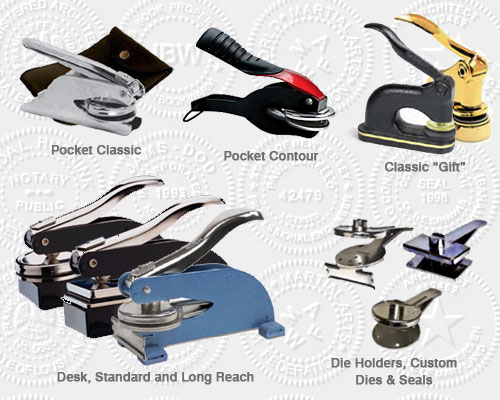 We Manufacture Official Seals for Government, Schools,
Notaries, Corporations, and for Personal Use
We manufacture Embossers and Seals from furnished Artwork for Official and Personal Use. Laser Engraved to your exact specifications.
Seals are available as Hand Embossers, Desk Embossers, Long-Reach Desk Embossers and as Antique Desk Embosser in Gold or Chrome Finish.
A Letter of Permission is required for all Official Seals from Government Agencies, Notaries, Engineers, Schools and Corporation Seals. No exceptions.


Contour Pocket-Hand Embosser
Hand Held Contour Seal/Embosser for Corporations, Companies, or Any Use

Model - HE-2C
Size - 2 inch Round

Please Call 800-512-8014 for Quote
Hand Embosser
Hand Held Seal/Embosser for Corporations, Companies, or Any Use

Model - HE-2
Size - 2 inch Round

Please Call 800-512-8014 for Quote
Hand Embosser
Hand Held Seal/Embosser for Corporations, Companies, or Any Use

Model - HE-1-5/8
Size - 1-5/8 inch Round

Please Call 800-512-8014 for Quote
Desk Embosser
Desk Seal/Embosser for Corporations, Companies, or Any Use

Model - DE-2
Size - 2 inch Round

Please Call 800-512-8014 for Quote
Desk Embosser
Desk Seal/Embosser for Corporations, Companies, or Any Use

Model - DE-1-5/8
Size - 1-5/8 inch Round

Please Call 800-512-8014 for Quote
Antique Embosser
Antique Gold Seal/Embosser for Corporations, Companies, or Any Use. A conversation piece for your desk.

Model - ADEG-2
Size - 2 inch Round, Gold Finish

Please Call 800-512-8014 for Quote
Antique Embosser
Antique Gold Seal/Embosser for Corporations, Companies, or Any Use. A conversation piece for your desk.

Model - ADEG-1-5/8
Size - 1-58 inch Round, Gold Finish

Please Call 800-512-8014 for Quote
Pocket Embosser
Pocket Seal/Embosser for Name and Address, or any Wording

Model - PE
Size - 1 inch x 2 inch Rectangular

Please Call 800-512-8014 for Quote
Long Reach Embosser
Long, 4-1/2 inch Reach Seal/Embosser, For Heavy Duty Use. Please e-mail or fax us your requirements

Model - LR
Size - 4-1/2 inch Reach

Please Call 800-512-8014 for Quote