Automatic Numbering Machines
Equipped with Drop Cyphers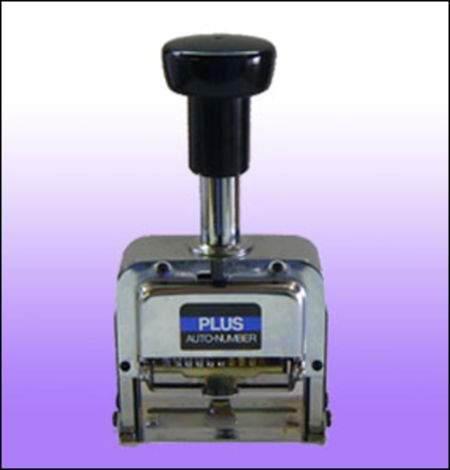 Available with Red or Black Ink Pad
For stamping Xerox and Regular Paper
Automatic Numbering Machines are available from 5 Wheels to 12 Wheels and from 4 to 8 actions and Repeat from 1-time to 12-times. Stamp the same number or do consecutive numbering simply by adjusting the machine.
Our Numbering Machines are built Heavy Duty and are priced very reasonable.
Automatic Numbering Machines can be modified with Alphabet Wheels A-J, K-T, S-Z or a Dash/Slash Wheel for additional Charge. All Machines have 3/16" Character Size except Model BB (1/8"). Numbering Machine Pads and Ink is also available.


Automatic Numbering Machines
Automatic Numbering Machines

Model - Model A
Size - 6 wheel, 8 actions, repeat up to 12 times

Please Call 800-512-8014 for Quote
Automatic Numbering Machines
Automatic Numbering Machines

Model - Model BB
Size - 5 wheel, 4 actions, repeat up to 3 times

Please Call 800-512-8014 for Quote
Automatic Numbering Machines
Automatic Numbering Machines

Model - Model F
Size - 7 wheel, 5 actions, repeat up to 6 times

Please Call 800-512-8014 for Quote
Automatic Numbering Machines
Automatic Numbering Machines

Model - Model E
Size - 8 wheel, 7 actions, repeat up to 12 times

Please Call 800-512-8014 for Quote
Automatic Numbering Machines
Automatic Numbering Machines

Model - Model P
Size - 10 wheel, 7 actions, repeat up to 12 times

Please Call 800-512-8014 for Quote
Automatic Numbering Machines
Automatic Numbering Machines

Model - Model S
Size - 12 wheel, 3 actions, repeat up to 2 times

Please Call 800-512-8014 for Quote